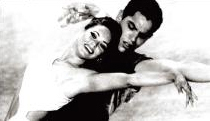 Learn2Salsa w/ Jami Josephson! Welcome to the best website for learning salsa on the web! With Learn2Salsa you can be an eye-catching salsa dancer in no time! Check out our classes or new Instructional Video's!

Salsa Classes!
Jami teaches and performs a wide variety of dance styles throughout the New York City area and now in the South River, NJ at Ballroom Dream Studio's. Jami also travels to teach and coach individuals, dance troupes, school's, and performs at many events. Be sure to checkout Jami's Group and Private Lessons Schedule! Click Here For Class Info or Call Toll Free @ 1-877-98-DANCE.

Meet Jami Josephson
Jami Josephson is a professional dancer, performer, choreographer and a certified dance instructor in Ballroom and Latin dancing with over 100 titles in competition. She has her own all-female dance troupe "The Rhythm Divas" and has finished a certification for Salsa Instructors with ProDvida.